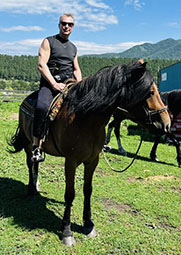 Oleg Stefan, also known as Oleg Shtefanko, was born on September 7, 1959 in the Ukraine, in Donetsk.
After graduating from high school in 1976, he was accepted to the Schepkin Academy of the Art and Theater in Moscow. By his sophomore year, he performed onstage the Moscow Malyi Theater, and was offered to join its troupe in 1980, after his 1979 television debut. He would perform in over twenty plays there over the course of the following years.

In 1992, Oleg Stefan immigrated to the United States. He tried to earn his living as a taxi driver, waiter, bartender, car salesman, security guard, kickboxer, and insurance agent. Oleg also worked in modeling, but his passion remained in theatrical performance, and he continued to pursue his acting career in the Theater of New York City. There in New York, Oleg appeared in his first American feature film.

In 1994, Oleg moved to Los Angeles and was cast in several TV and movie productions. In LA, he attended the LA Actors Circle Theater School to continue his education. Since then, Oleg has been cast in fourteen feature films and has worked with Robert de Niro, Mike York, Gene Hackman, Jude Law, James Belushi, Leonardo di Caprio, Matt Damon, Alec Baldwin, John Turturro, John Pesci, Angelina Jolie, Sigourney Weaver, Vincent Perez, Julia Roberts, Clive Owen, Paul Giamatti, Tom Wilkinson and Denis O'Hare.

In 2003, Oleg once again starred in various Russian TV productions. Oleg got Grand Prix on the 7th International Euro-Asian TV Festival for his work in the "The Officers" movie.
In 2005, Oleg was a nominee on the 45th International Monte-Carlo TV Festival on the Gold Nymph Award for the best man's role.
In 2007 Oleg with the other actors won Silver Berlin Bear (BIFF) for Outstanding Artistic Contribution to "The Good Shepherd".
Oleg is married and has a daughter and son. He is a member of SAG and AFTRA. Oleg has credits in more than 80 movies and TV productions. He starred in the 58 of them.